Medium:
Movie
Fandom:
The Devil Wears Prada
Subject:
Andrea Sachs/Miranda Priestly
Title:
33
Notes:
For the
Good Things in Three
challenge at
dvlwears_prada
. I'll upload individual songs if anyone wants. Special thanks to
ragelikeafire
for introducing me to Elbow. I went out and bought the album and now I'm officially hooked!
So this actually started out as a 10-track mix but I got carried away. XD This contain 33 songs detailing various events/stages in their relationship, listed in chronological order. I won't explain all the song choices, and you may interpret them as you like, but if you're really curious about something, just drop me a comment here.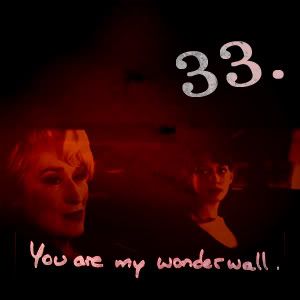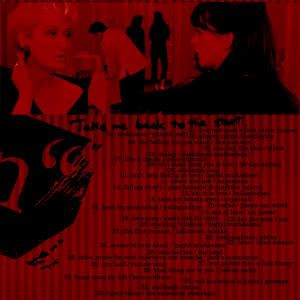 Track Listing
01. I've Just Seen a Face - Slow Runner
Had it been another day/I might have looked the other way/And I'd have never been aware/But as it is, I'll dream of her tonight/Falling, I am falling/She keeps calling me back again
02. Enchanted - Patrick Wolf
Now love has come to me/And set apart thee/From all of the maddening crowds/The orchard is leaning her boughs/To hear our laughter/As we roll in the arder/Enchanted I am/By you
03. Cherry Tulips - Headlights
I want the sea/I want the whole sea (and endless cherries)/For you and me (for crimson colors)/For you and me (all just for you and me)
04. The Feeling You Get When - The Hoosiers
You sent the sun round the earth/Made me feel twice what I'm worth
05. One Day Like This - Elbow
Someone tell me how I feel/It's silly wrong but vivid right/Oh, kiss me like a final meal/Yeah, kiss me like we die tonight/'Cause holy cow, I love your eyes/And only now I see the light/Yeah, lying with me half-awake/Oh anyway, it's looking like a beautiful day
06. Stolen - Dashboard Confessional
You have stolen my heart/Watch you spin around in your highest heels/You are the best one of the best ones/We all look like we feel
07. Like a Dream - After Edmund
And in my ear a melody/More beautiful than words/And I can hear the promise of your love
08. All I Want from You Is Love - Let's Go Sailing
Don't worry, I can't run that fast/My legs can't carry the rest of me that far/Don't worry, you'll still be able to place me
09. Academia - Sia
And if I am a number, I'm infinity plus one/And if you are five words, you are afraid to be the one/And if you are a number, you're infinity plus one/And if I am four words then I am needing of your love
10. Can't Help Falling in Love - Ingrid Michaelson
Like a river flows surely to the sea/Darling, so it goes/Some things are meant to be/So take my hand, and take my whole life too/'Cause I can't help falling in love with you
11. Sweet and Low - Augustana
And I'll carry you all the way/When you say you're fine/But you're still young and out of line/When all I need is to turn around/To make it last, to make it count
12. Falling Slowly - Glen Hansard & Markéta Irglová
Falling slowly, eyes that know me/And I can't go back/Moods that take me and erase me/And I'm painted black/You have suffered enough/And warred with yourself/It's time that you won/Take this sinking boat and point it home/We've still got time/Raise your hopeful voice, you had a choice/You've made it now/Falling slowly, sing your melody/I'll sing along
13. Oh, It Is Love - Hellogoodbye
Oh dear, it's been hardly three days yet/And I'm longing to feel your embrace/There are several days/Until I can see your sweet face
14. Take My Breath Away - Copeland
Watching every motion in my foolish lover's game/Haunted by the notion somewhere there's a love in flames/Turning and returning to some secret place inside/Watching in slow motion as you turn to me and say/Take my breath away
15. Softer - Jimmy Eat World
She's perfect in her own way/Smoke rings rising to the winter grey/She's perfect in her own way/Shining, stepping off a silver train
16. Here (in Your Arms) - Hellogoodbye
Well you are the one, the one that lies close to me/Whispers, "Hello, I've missed you quite terribly."/I fell in love, in love with you suddenly/Now there's no place else I could be but here in your arms
17. Sea of Love - Cat Power
Do you remember/When we met/That's the day/I knew you were my pet/I wanna tell you/How much/I love you
18. Love Song - Death Cab for Cutie
Whenever I'm alone with you/You make me feel like I am free again/Whenever I'm alone with you/You make me feel like I am clean again/However far away, I will always love you/However long I stay, I will always love you/Whatever words I say, I will always love you
19. Day Too Soon - Sia
You'll risk all this for just a kiss/I promise I will not resist/Promise you won't hold me down/And when we reach a good place/Let's be sure to leave no trace/Promise they won't track us down
20. Morning Lullabies - Ingrid Michaelson
Let me lie in the curve of your body tonight/And I will hear you tumble into sleep/I will watch you heal/I'll watch you heal with me
21. The Four Corners - Halloween, Alaska
I had a plan/I had sense enough/I counted it like promises to myself/After centuries of bad luck and open air/I found the one to keep
22. Combinations - Eisley
Pass the evening, bring tomorrow/How could we know the night would bring us into daylight?/Combinations all around us fill our heads/With the love we've been feeling, for time long past/I went for so long and I was so wrong/And then I met you and now I can't live without you/And I don't want to, I've done that all my life until now
23. Here - Idina Menzel
If your car stalls in the middle of the road in snow/I know, I know you'll be here/Lights out, in all of the city, black out no doubt/I know you'll be here
24. Corner of Your Heart - Ingrid Michaelson
There's one minute of your day/There's one minute of your day/I will leave this man just to occupy one minute of your day/Just to occupy one minute of your day/Just to sleep underneath your bed/Just to stay in the corner of your heart
25. Smother Me - The Used
Let me be the one who never leaves you all alone/I hold my breath and lose the feeling that I'm on my own/Hold me too tight, stay by my side/And let me be the one who calls you baby all the time
26. MFEO: Made for Each Other/You Can Breathe - Jack's Mannequin
Oh, oh maybe, we were made/We were made for each other/Ahh, is it possible for the world to look this way forever?
27. You Picked Me - A Fine Frenzy
And all I can say/Is you blow me away/Like an apple on a tree/Hiding out behind the leaves/I was difficult to reach/But you picked me/Like a shell upon a beach/Just another pretty piece/I was difficult to see/But you picked me/Yeah you picked me
28. City Hall - Vienna Teng
My baby's lookin' so damned pretty/With those anxious eyes/Rain-speckled hair/And my ring to wear
29. They Bring Me to You - Joshua Radin
Moon pours through the ceiling tonight, embraces us tight/Shows me we're right for each other/And as we lie here and let the world fade away/The sunrise tries to end it while we try to stay
30. Foxes Mate for Life - Born Ruffians
And I know/Foxes mate/For life because/They're in love
31. Tell Me Where It Hurts - Garbage
Tell me where it hurts, to hell with everybody else/All I care about is you and that's the truth/They don't love me, yeah I can tell/But you do, so they can go to hell
32. Endlessly - Muse
It's plain to see it's trying to speak/Cherished dreams forever asleep/Hopelessly, I'll love you endlessly/Hopelessly, I'll give you everything/But I won't give you up/I won't let you down/And I won't leave you falling/If the moment ever comes
33. Thirty-Three - The Smashing Pumpkins
I know I'll make it, love can last forever/Graceful swans have never topple to the Earth/And you can make it last forever/You can make it last forever/You can make it last
Current Mood:
awake